Start | Software | Alle NTSC Korea Samsung Super Gam*Boy / Super Aladdin Boy Spiele


NTSC SOUTH KOREA
Mega Drive Spiele, die für den südkoreanischen Markt bestimmt sind, erkennt man zum großen Teil an dem Samsung-Logo bzw. dem Samsung-Schriftzug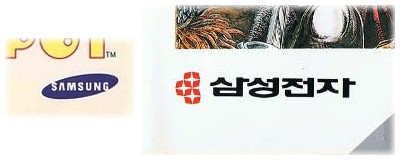 . Auf den NTSC KOREA Samsung Super Gam*Boy und Super Aladdin Boy Konsolen laufen ca. ab dem Software-Herstellungsdatum 1992/93 auch nur die dafür vorgesehenen Spiele. Ab diesem Zeitpunkt wurde sowohl das Regional Lockout System in den Cartridges verwendet (welches prüft, ob die eingesteckte Cartridge der Länderversion des Systems gleicht), als auch das TMSS = TradeMark Security System, welches sicher stellen sollte, dass nur offiziell lizenzierte Software abgespielt werden kann. Die NTSC KOREA Spiele sind ab den späteren Releases auch auf NTSC-JP programmiert und laufen somit nicht auf westlichen Konsolen (westliche Cartridge-Schächte müssen zudem ausgefeilt werden, damit die japanischen Cartridges hineinpassen). Westliche Cartridges passen ohne Probleme in koreanische Konsolen, hier gelten aber auch die Regional Lockouts ab 1993.
Hüllen
In Südkorea übernahm der koreanische Elektronik-Riese Samsung die Releases von Mega Drive Hard- und Software aufgrund eines Verkaufsverbotes von japanischen Produkten in Südkorea. Daher gab es hier etliche verschiedene Packungsformen und -designs. Nachfolgend die verschiedenen Versionen.



Die ersten 10 Spiele des Super Gamboy kamen in diesern Hüllen mit Super Gam*Boy Logo und Schriftzug sowie koreanischer Anleitung. Die ID der koreanischen Spiele beinhaltet die MBit-Zahl und eine fortlaufende ID (wie hier z.B. GM4003JG / 4 = 4MBit - 003 = ID). Zudem gab es zwei Arten von Boxen: Big Box (VHS Größe) [Dai Makaimura, Golden Axe, Juuouki, Rambo III, Space Harrier II, The Super Shinobi, Thunder Force II MD und Zoom!] sowie Small Box (ähnlich wie normale Mega Drive Hüllen, nur breiter) [Golden Axe, Rambo III, Space Harrier II, The Super Shinobi, Super Thunder Blade, Thunder Force II MD und Zoom!] - Tatsujin, das allererste GamBoy Spiel kam sogar ganz ohne Hülle als Giveaway beim Kauf heraus.

---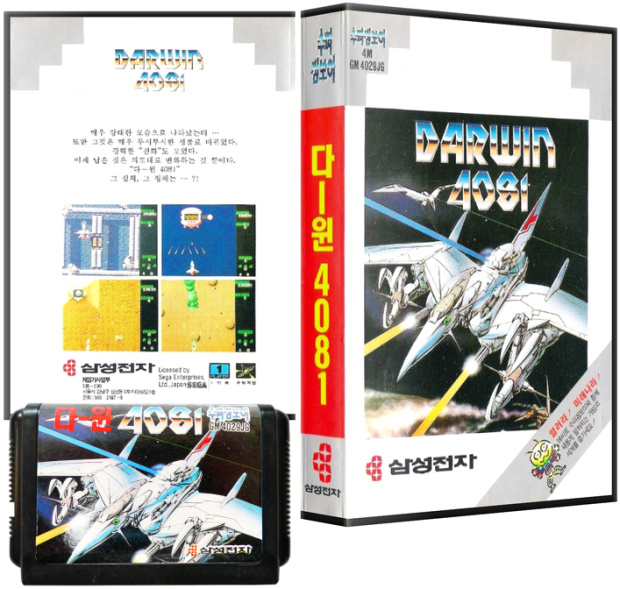 Die nachfolgenden Spiele erhielten dieses Design mit den silbernen Elementen, Super Gamboy nur noch in koreanisch und den nun gänzlich normalen Abmessungen eines Mega Drive Packs. Sonic the Hedgehog erhielt u.a. einen "Silver"-Release, allerdings nur mit einem silbernen Element auf der Spine und nicht auf dem Front-/Backcover. Besonders ist der "Silver"-Release von Kujaku Ou 2: Geneishiro [im koreanischen Ondal Janggun, im Westen Mystic Defender], welcher komplett ins Koreanische übersetzt und einige grafischen Elemente eher dem koreanischen (als dem japanischen) Stil angepasst wurden.

---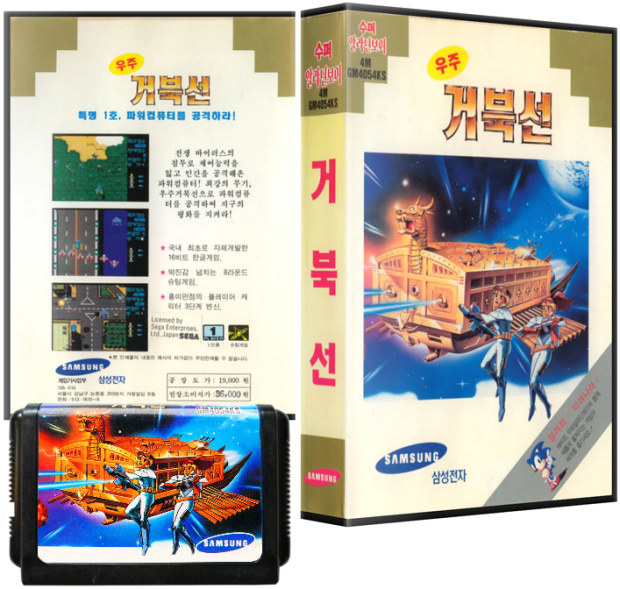 Danach folgte die goldene Phase, in die auch der Release des neu benannten Super GamBoy (nun als Super Aladdin Boy beworben) fiel. Daher gab es die "Gold"-Spiele entweder noch mit dem alten Samsung-Logo und Super Gam*Boy-Schriftzug oder mit neuem Samsung-Logo und Super Aladdin Boy Schriftzug.

Super GamBoy (links) / Super Aladdin Boy (rechts):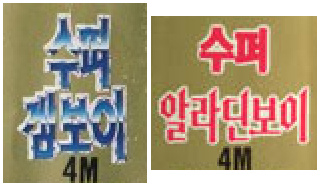 .
Zudem gab es ein exklusives, koreanisches Spiel namens Uju Keobukseon (übersetzt Space Turtle Battleship / ein Keobukseon [Turtle Ship] war ein See-Schlachtschiff aus Holz der Koreaner vom 16. bis 19. Jhd.), dessen Cover ihr hier seht.

---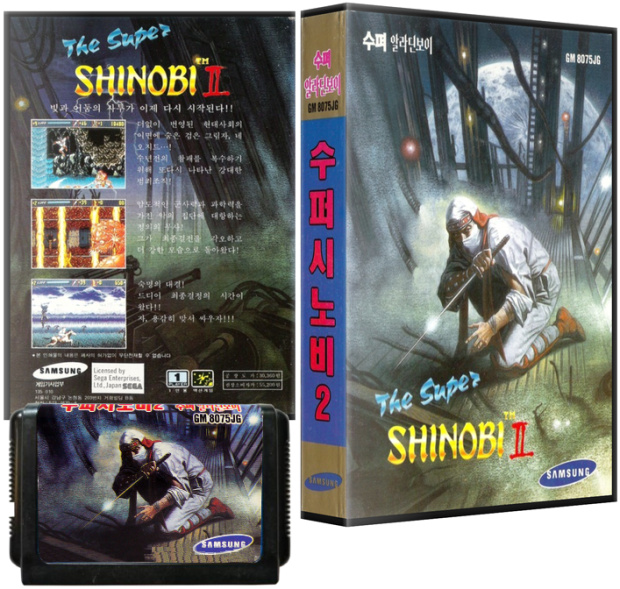 Darauf folgend erschienen einige Spiele, die zwar auf der Seite immer noch gold schimmerten, vorne und hinten aber ziemlich die ganze Fläche für das Artwork und die Infos nutzten (nur Fatal Fury hatte auch seitlich nichts Goldenes mehr). In dieser Zeit wurden auch die ID´s verändert: von MBit-Zahl und fortlaufender ID (z.B. GM8075JG, also 8Mbit und Nr. 075 in der Releasereihenfolge) hin zur Jahreszahl des Releases mit fortlaufender ID (z.B. GM94001JT, also im Jahr 94 das 001. Spiel).

---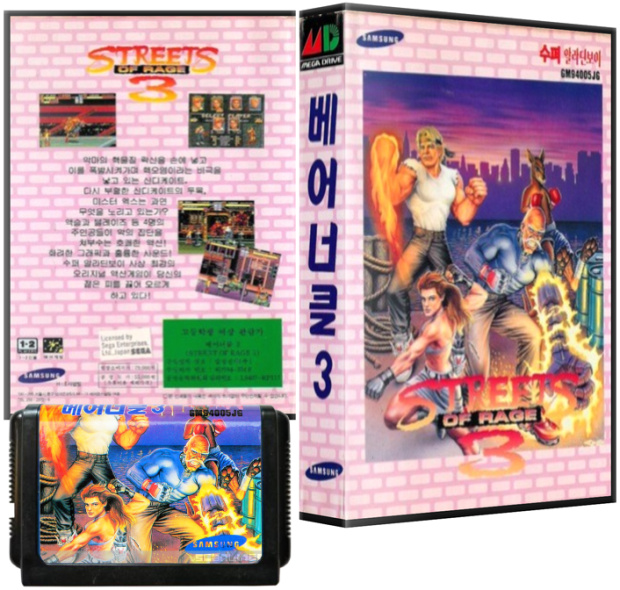 5 Spiele erschienen 1993/94 in diesem Ziegelstein-Look (Brick Wall Design) mit japanischem MD-Logo auf der Spine: Fatal Fury 2 [Arang Jeonseol 2], Street Fighter II´ Plus, Streets of Rage 3: Bare Knuckle 3, World Cup USA 94 und World Heroes.

---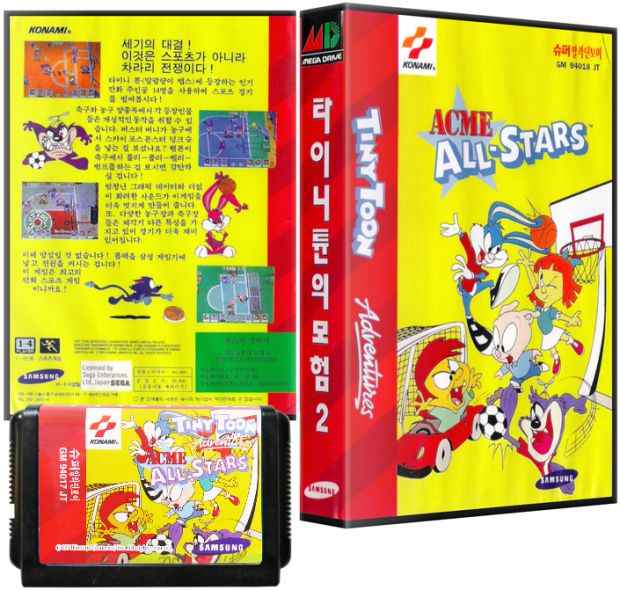 Das japanische MD-Logo wurde auch bei diesen Varianten aus 1994 beibehalten, farblich erhielt man alles von blau bis rot sowie Artworks, auf denen noch Genesis steht (vornehmlich bei Releases von Samsungs Partner Hi-COM).

---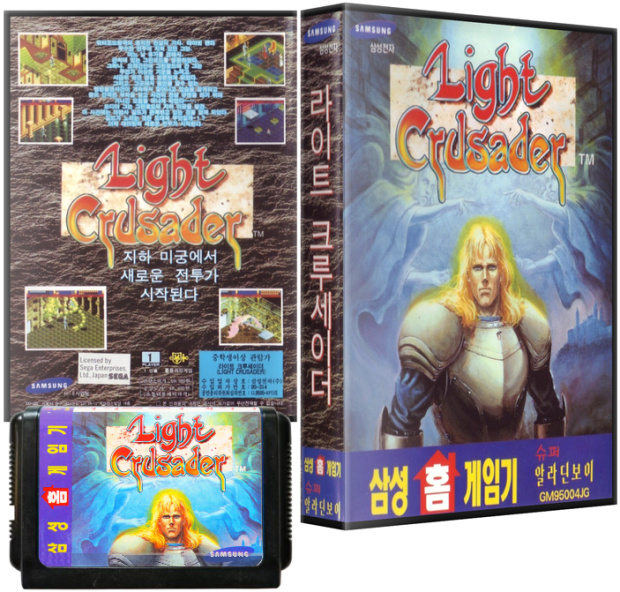 Mit Release des Super Aladdin Boy II (Mega Drive 2) Ende 1994 erschienen diese Cover mit dem Samsung Home Console Games Logo in einem blauen Streifen. Gerade zu dieser Phase erschienen einige Spiele, die komplett ins Koreanische übersetzt wurden (z.B. Light Crusader, Ragnacenty, Story of Thor, etc.). Zudem wurden Sonic the Hedgehog und World of Illusion mit der Samsung Home Console Games Ära neu aufgelegt.
Exklusivität
Folgende Spiele gab es nur als koreanische Version:
(und damit weder als PAL/SECAM/US/JP/BR/ASIA-Version)

Anteil
Mit 153 Spielen erhielten die Südkoreaner 16,2% aller 945 erhältlichen Mega Drive/Genesis/GamBoy Spiele (bzw. 154* von 962*), das letzte war Sonic Classics im Jahre 1997.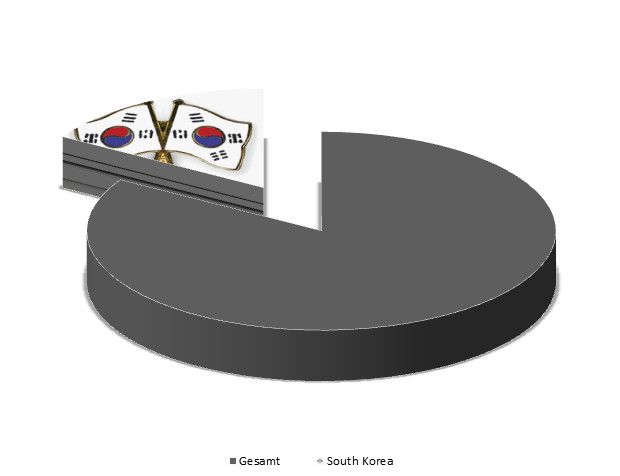 * die höhere Zahl ist jeweils die Gesamtmenge an Spielen, wenn man an sich gleiche Spiele mit z.B. verschiedenen Sport-Teams je nach Region (z.B. NHL 95 mit NHL-Teams / Elitserien 95 mit schwedischen Elite League Teams) oder unterschiedlichen Charakteren (z.B. Wonder Boy in Monster World mit Wonder Boy / Turma da Monica mit der brasilianischen Monica) berücksichtigt.

Nachfolgend alle Spiele mit gleicher Mechanik, aber inhaltlichen Unterschieden:
Championship Bowling[US] / Boogie Woogie Bowling[JP] [unterschiedliche Charaktere]

Boxing Legends of the Ring [US] / Chavez II[US] [unterschiedliche Charaktere/Sprache]

Elitserien 95[SWE] / NHL 95[PAL/US] [Schwedische Elite League Teams / US-amerikanische NHL-Teams]

Elitserien 96[SWE] / NHL 96[PAL/US] [Schwedische Elite League Teams / US-amerikanische NHL-Teams]

European Club Soccer[PAL] / World Trophy Soccer[US] / J. League Champion Soccer[JP] [Europäische Clubs / Internationale Teams / Japanische J. League Teams]

Klax [unterschiedliche Programmierer zwischen PAL/US/BR und JP-Version]

Decap Attack[PAL/US/BR] / Magical Hat no Buttobi Turbo! Daibouken[JP] [unterschiedliche Charaktere]

Marble Madness [unterschiedliche Programmierer zwischen PAL/US und JP-Version]

Prince of Persia [unterschiedlicher Umfang/Sound zwischen PAL und US-Version]

Probotector[PAL] / Contra: Hard Corps[US/JP] [unterschiedliche Charaktere]

Dr. Robotnik´s Mean Bean Machine[PAL/US/BR] / Puyo Puyo[JP] [unterschiedliche Charaktere]

Australian Rugby League[PAL/AUS] / Rugby World Cup 95[PAL/US] [Australische Clubs / Internationale Teams]

Shane Warne Cricket[AUS] / Brian Lara Cricket 96[PAL] [Australische Clubs / Internationale Teams]

Sports Talk Baseball[US] / Pro Yakyuu Super League 91[JP] [US-amerikanische MLB Teams / Japanische C- und P-League Teams]

Super League[PAL/BR]/Tommy Lasorda Baseball[US] / Super League[JP] [US-amerikanische MLB und Internationale Teams / Japanische C- und P-League und Internationale Teams]

Wonder Boy in Monster World[PAL/US]/Wonder Boy V: Monster World III[JP] / Turma da Monica na Terra dos Monstros[BR] [unterschiedliche Charaktere]