Start | Software | Alle NTSC USA/Canada SEGA Genesis Spiele


NTSC USA / KANADA
Mega Drive Spiele, die für den US-amerikanischen und kanadischen Markt bestimmt sind, erkennt man sehr leicht daran, dass dort aufgrund von Rechtstreitigkeiten mit einer Firma, die sich bereits den Namen Mega Drive gesichert hatte, das System als Genesis verkauft wurde und dementsprechend auch die Software mit Genesis gekennzeichnet ist. Auf NTSC-US SEGA Genesis Konsolen laufen ca. ab dem Software-Herstellungsdatum 1992/93 auch nur die dafür vorgesehenen Spiele. Ab diesem Zeitpunkt wurde sowohl das Regional Lockout System in den Cartridges verwendet (welches prüft, ob die eingesteckte Cartridge der Länderversion des Systems gleicht), als auch das TMSS = TradeMark Security System, welches sicher stellen sollte, dass nur offiziell lizenzierte Software abgespielt werden kann. Die asiatischen Module (Japan, Südkorea, Hong Kong, Taiwan, etc.) haben eine andere Form und sind größer als ihre westlichen Pendants und passen daher ohne Modifikation des Modulschachts (aussägen/ausfeilen) nicht in westliche Mega Drive/Genesis-Systeme.
Hüllen
NTSC USA/Kanada SEGA Genesis Software gibt es in zahllosen Covervarianten, ein Graus (oder eben ein Glück) für jeden Sammler. Nachfolgend die verschiedenen Versionen.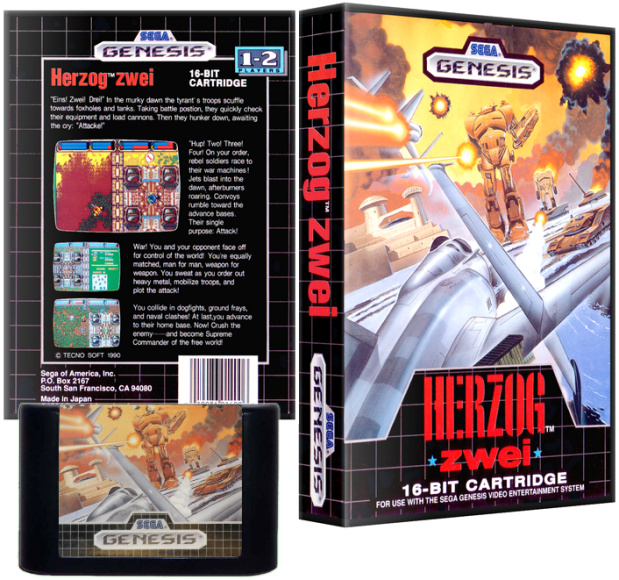 Anfangs erschienen die NTSC-US Genesis Spiele in Plastikhüllen (Clamshell-Packs, also grob übersetzt Schnappverschluss-Box) mit dem bekannten Genesis Kastenmuster, welches ihr auch als Hintergrund dieser Seite seht. Das alte Genesis Logo


ziert ebenso das Cover wie der gut zu erkennende 16-BIT CARTRIDGE-Schriftzug (der allerdings bei den Genesis-Spielen nicht so häufig vorkommt wie bei den europäischen Releases). Also bis auf den Systemnamen Genesis ziemlich das gleiche Design wie bei den PAL/SECAM-Kollegen.

Majesco (die ab 1997 die SEGA Genesis Lizenz bekamen) und Williams (welche 1996 Atari und Tengen übernahmen) veröffentlichten Re-Releases von 19 Spielen der OldStyle-Cover Ära in Slide-Pappboxen anstatt in Plastik-Clamshell-Hüllen sowie weitere 6 Electronic Arts Spiele als Slide- und FlipTop-Packs mit normalen Cartridges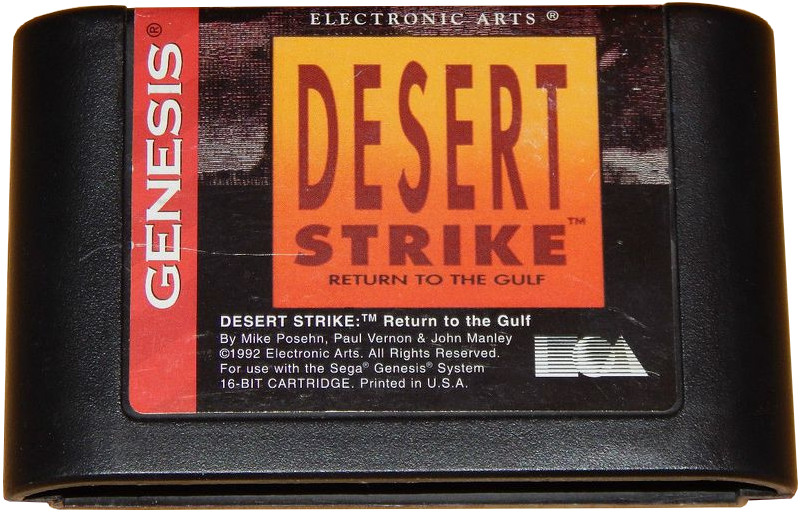 anstatt der größeren EA-Cartridges.

2 Spiele erschienen aus bisher unbekannten Gründen auch in solchen Pappboxen (Sonic the Hedgehog 2 und Stormlord [sogar exklusiv als Pappbox]), zwei weitere Spiele kamen als Pack-In zum Menacer in Klappboxen [Gatefolds] aus Pappe (Menacer 6-Game Cartridge und T2: The Arcade Game).

Cardboard Box Type: Gatefold:

---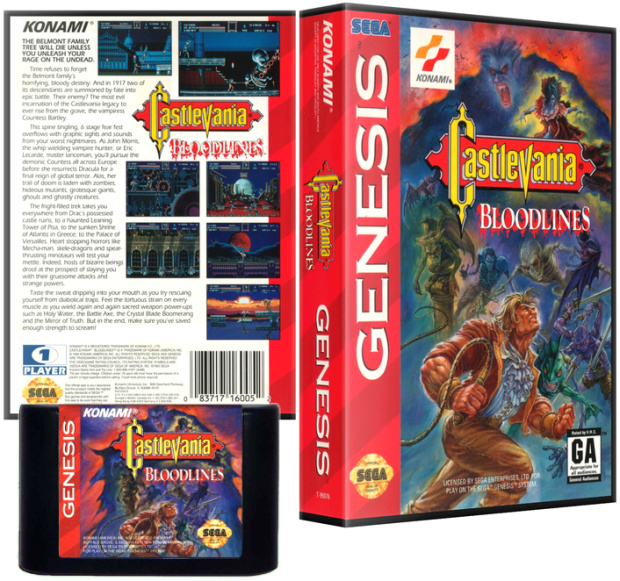 Danach wechselte man das Design von schwarz auf rot (nun auch mit zwei verschieden dunklen Rottönen als Streifen anstatt grauen Kasten im Hintergrund). Zudem erscheint der Markenname GENESIS im Vergleich zur ersten Version wesentlich größer.

Ab ca. Mitte 1994 verwendete man zum großen Teil die kostengünstigeren Pappboxen anstatt der Plastik-Clamshell-Hüllen, zudem sprang auch Majesco ab 1997 mit seinen Re-Releases komplett auf den Zug der in Mexico produzierten Papphüllen auf. Diese in englisch genannten Cardboard-Boxes gab es in zwei Varianten: zum einen als Slide-Box, zum anderen als Flip-Top

Cardboard Box Types: Flip-Top [left] / Slide [right]: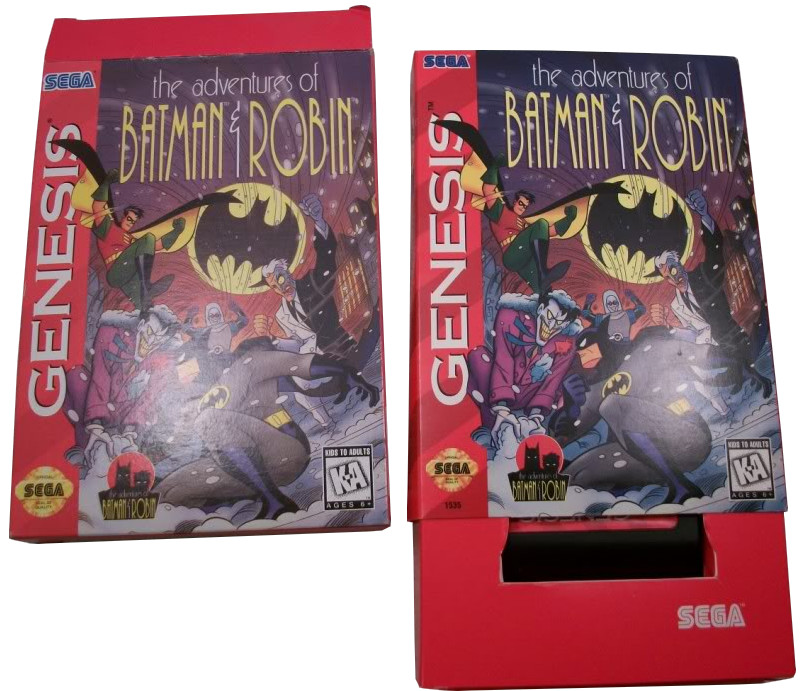 Desweiteren erschienen 2 Spiele (Mighty Morphin Power Rangers: The Movie und Vectorman) exklusiv in Slide-Boxen, deren gesamte Oberfläche schimmert, ähnlich eines Chrom-Effektes.

Cardboard Box Type: Chrome: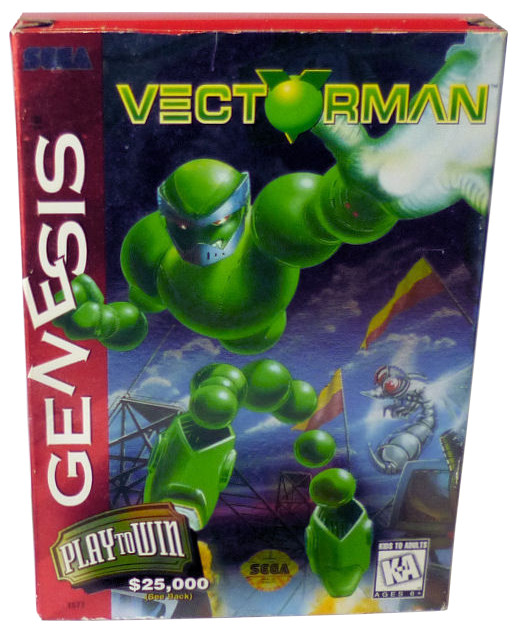 ---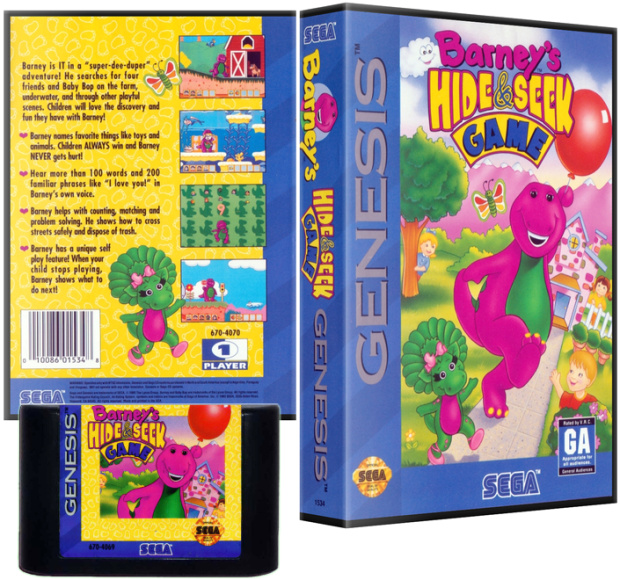 Das erste Spiel für ganz junge Gamer erschien 1993 mit einem blauen Cover: Barney´s Hide & Seek Game. Danach wurden zwar die normalen, roten Hüllen verwendet, aber zusätzlich mit dem "SEGA Club" [Kid´s Club] Logo


ausgestattet: The Berenstain Bears: Camping Adventure, Disney´s Bonkers, Richard Scarry´s Busy-Town, Crystal´s Pony Tale, Ecco Jr., Scholastic´s The Magic School Bus: Space Exploration Game, Math Blaster: Episode 1, Sesame Street: Counting Cafe und Wacky Worlds: Creativity Studio.

---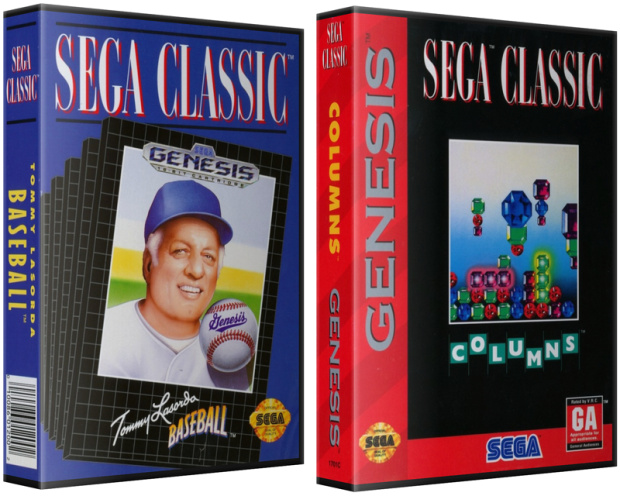 Ab 1992 legte SEGA einige seiner in den USA erfolgreichsten Titel als SEGA Classic neu auf. Anfangs noch in blau gehalten (Arnold Palmer Tournament Golf, Golden Axe [auch als Alternativcover mit ESRB-Rating], James ´Buster´ Douglas Knockout Boxing, Joe Montana Football, Pat Riley Basketball, The Revenge of Shinobi [auch als Alternativcover mit ESRB-Rating], Shadow Dancer: The Secret of Shinobi, Super Monaco GP, Tommy Lasorda Baseball und World Championship Soccer), später dann mit dem bekannten, roten Streifen (Columns [auch als Alternativcover mit ESRB-Rating und als Majesco Cardboard Re-Release], Joe Montana II: Sports Talk Football, Sonic the Hedgehog [auch als Alternativcover mit ESRB-Rating] und Streets of Rage [auch als Alternativcover mit ESRB-Rating].

---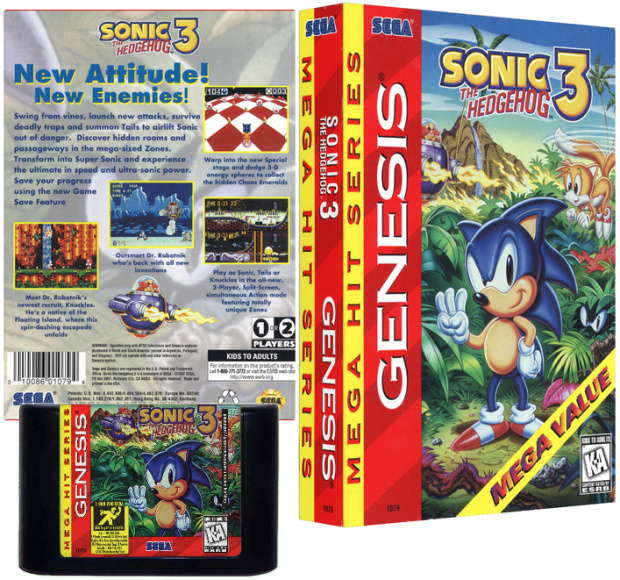 Ziemlich zum Ende der Mega Drive/Genesis-Ära Ende 1996/Anfang 1997 bot SEGA einige Titel vergünstigt (Value) als Mega Hit Series in Pappboxen an: Desert Demolition, Ecco: The Tides of Time, Eternal Champions, Mega Bomberman, Mighty Morphin Power Rangers, Sonic 3, Super Monaco GP, Taz in Escape from Mars, Vectorman und X-Men 2: Clone Wars. Sonic 3, Taz in Escape from Mars und Vectorman gab es auch als Majesco-Versionen (zu erkennen an dem Seal of Quality, welches bei den SEGA-Versionen fehlt). Der letzte Titel der Mega Hit Series X-Men 2 erschien sogar exklusiv durch Majesco.

---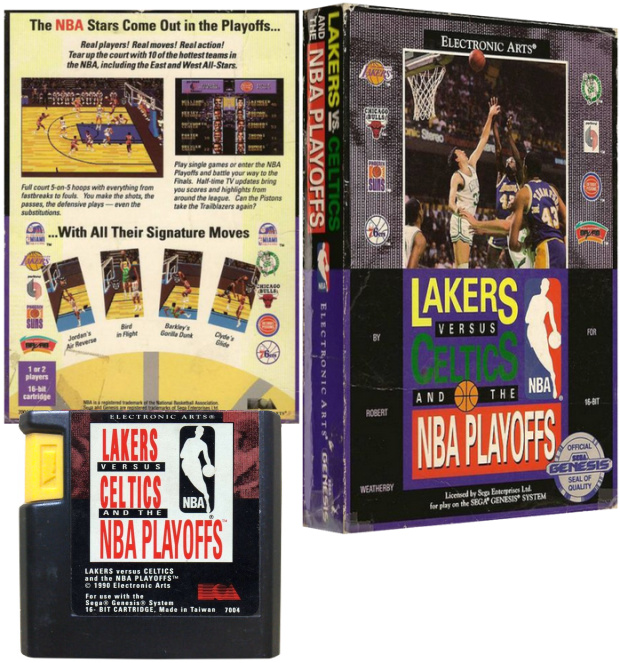 Die ersten 9 Electronic Arts Genesis-Spiele in 1990/91 (Battle Squadron, Blockout, Budokan, James Pond, John Madden Football, Lakers versus Celtics, Populous, Sword of Sodan und Zany Golf) erschienen in einer FlipTop Pappbox, ehe man sich den normalen Plastik Clamshell-Packs zuwandte [einige dieser ersten 9 Spiele wurden danach zusätzlich auch noch in Plastikpacks herausgebracht]. Seit Anbeginn des Engagements EA´s im Konsolensektor 1990 produzierte man eigene Module, die sich durch Größe und Design von den standardmäßigen Genesis Cartridges unterschieden. Der gelbe Clip am linken Rand des Moduls hat aber keinen weiteren Zweck. Dadurch produzierte man auch eigene, speziell für die größeren Module ausgelegten Clamshell-Packs.

Majesco veröffentlichte 1997 Re-Releases von 6 EA-Games, die neben den bei Majesco verwendeten Cardboard-Packs auch standardmäßige Module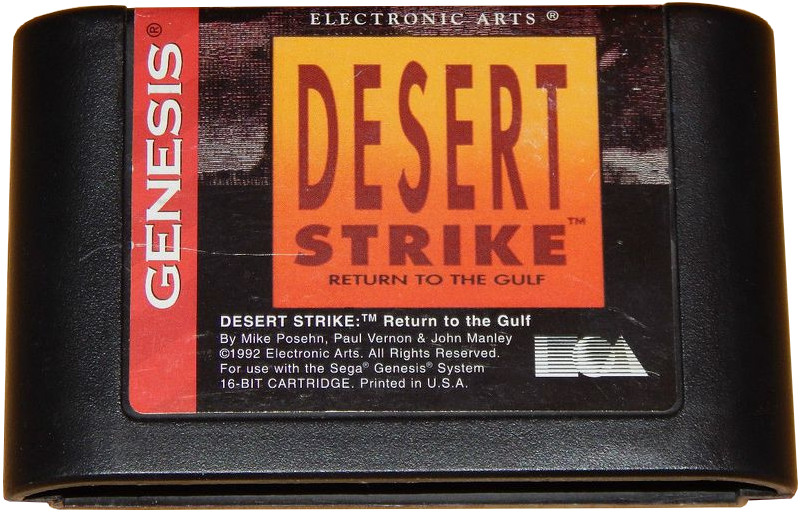 anstatt der großen EA-Module enthielten [Desert Strike, F22 Interceptor, Jungle Strike, Mario Andretti Racing, Road Rash II und Urban Strike].

6 EA Sports Spiele (Bulls versus Blazers and the NBA Playoffs, FIFA International Soccer, John Madden Football ´93, NBA Showdown ´94, NHLPA Hockey 93 und PGA Tour Golf II) erhielten einen durchnummerierten Limited 1st Round Edition Sticker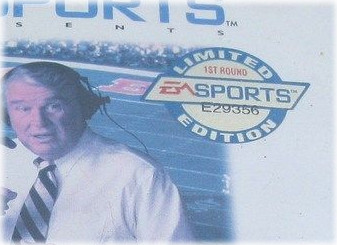 auf dem Frontcover, der auf eine Mail-In Karte im Inneren hinweist, mit welcher man sich zum Versandkostenpreis ein 2x3 Fuß (61x91cm) großes Banner mit dem zur Sportart passenden Artwork liefern lassen konnte.

Weitere EA-Spiele mit diesem 1st Round Limited Edition Sticker enthielten verschiedene Goodies (Madden NFL 94 = 3 Poster+Pog, NHL ´94 = 3 Spielerkarten und Tony La Russa Baseball = 26 Spielerkarten)

Team USA Basketball gab es sogar nur als Limited Edition inkl. 3-teiligem Mini-Poster des Barcelona 92er Teams

---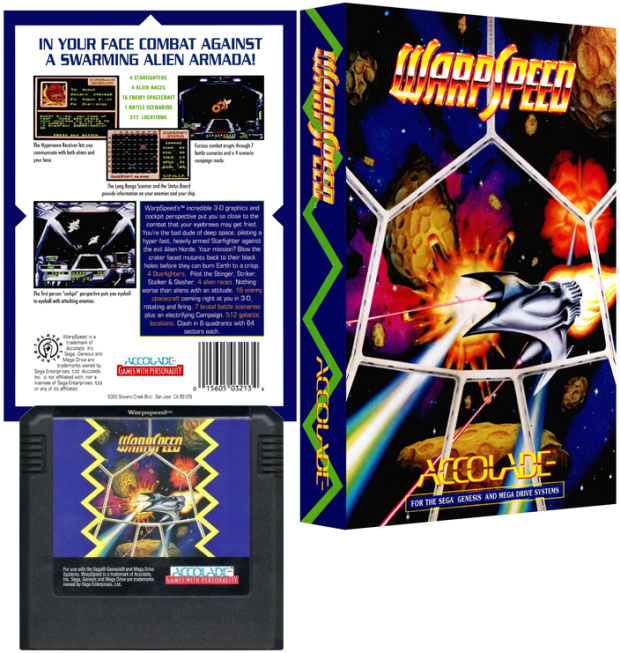 Die US-amerikanische Softwareschmiede Accolade gründete aufgrund von Lizenzschwierigkeiten mit Nintendo ihr eigenes Publishing-Label Ballistic, unter dessen Namen nun Spiele auf SEGA´s System verkauft werden konnten. Dies taten sie jedoch ohne eine Lizenz seitens SEGA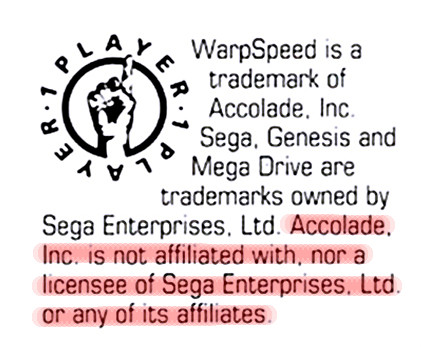 , weshalb diese wiederum Accolade im Oktober 1991 verklagten und den Prozess gewannen, woraufhin Accolade all ihre Produkte aus den Geschäften entfernen musste. Danach einigten sich beide Parteien außergerichtlich auf einen Vergleich und SEGA lizenzierte Accolade als offiziellen Partner. Die bis zu diesem Zeitpunkt in Pappschachteln herausgegebenen Spiele (am Ende nicht mehr unter dem Ballistic-Label), welche sowohl für das SEGA Genesis als auch für das Mega Drive in ein und dem selben Pack beworben und verkauft wurden, erhielten somit nachträglich ihre Daseinsberechtigung in den Listen offizieller Software-Releases. Alle Spiele, die nach diesem Vergleich produziert wurden, erhielten nun ihren "Licensed by SEGA"-Spruch und erschienen in den bekannten Clamshell-Plastikhüllen (außer Bubsy, Jack Nicklaus´ Power Challenge Golf und Pele, die in der Übergangsphase noch in Papphüllen, aber schon mit "Licensed by SEGA"-Spruch daherkamen) - die eigens produzierten und andersförmigen Cartridges behielt Accolade jedoch bei, wodurch auch die Plastikhüllen ausschließlich für Accolade-Releases zu verwenden sind. Die folgenden 17 Spiele erschienen in den teils vormals unlizenzierten Pappschachteln: Bubsy: in Claws Encounters of the Furred Kind, Double Dragon, HardBall, HardBall III, Ishido: The Way of Stones (exklusiv für Genesis beworben), Jack Nicklaus´ Power Challenge Golf, Mike Ditka Power Football, Onslaught, Pele, Star Control, Summer Challenge, Super Off Road, Test Drive II: The Duel, Turrican, Universal Soldier, WarpSpeed und Winter Challenge.

---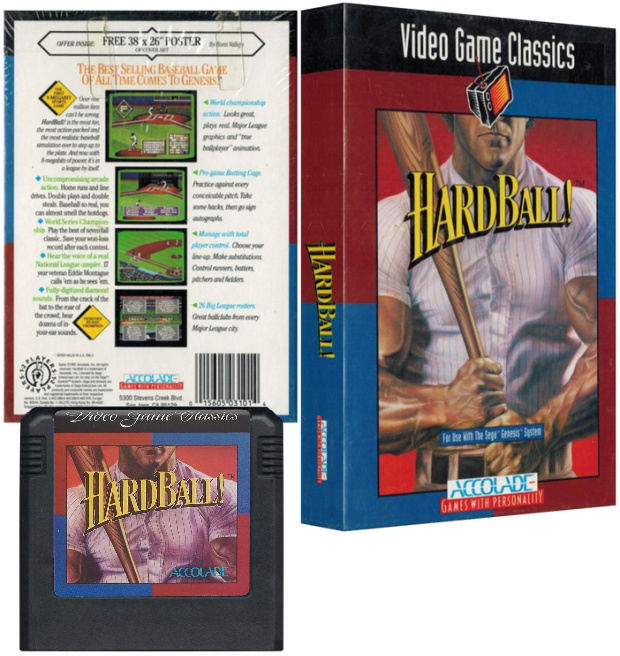 Zusätzlich brachte Accolade über ihr Publishing-Label Ballistic auch noch 6 vormals unlizenzierte Spiele als Video Game Classics Re-Releases (ebenfalls in Pappverpackungen) heraus: Double Dragon, HardBall [auch mit spezieller Video Game Classics Accolade Cartridge (s. Bild)], Mike Ditka Power Football, Super Off Road, Test Drive II: The Duel und Winter Challenge. Da die Video Game Classics zu einer Zeit herauskamen, als sich Accolade mit SEGA bereits geeinigt hatte, weisen sowohl die Packungen als auch die Cartridge-Sticker nun den "Licensed by SEGA"-Spruch auf.

---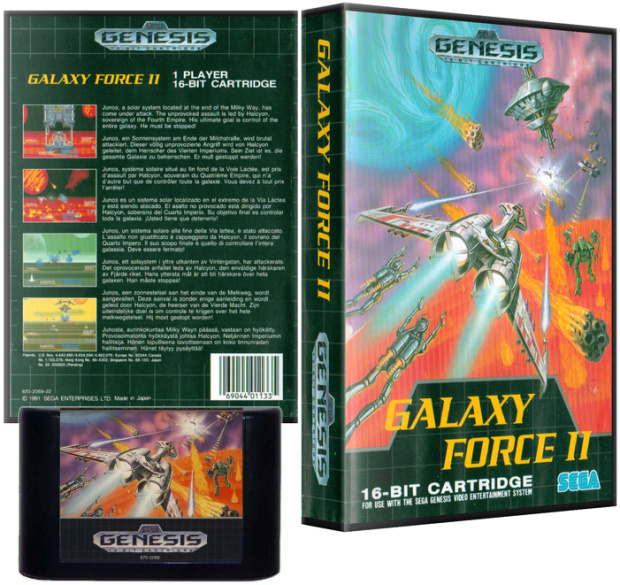 In Kanada veröffentlichte man die Genesis-Spiele mit europäischem Cover-Design inkl. Französisch auf der Rückseite und in der Anleitung, aber überall mit Genesis-Logo. 1 PackIn-Game (Altered Beast) erschien auch in einer exklusiv kanadischen Hülle (nur Englisch und Französisch) von Irwin Electronics, dem offiziellen Publisher von SEGA Hardware in Kanada.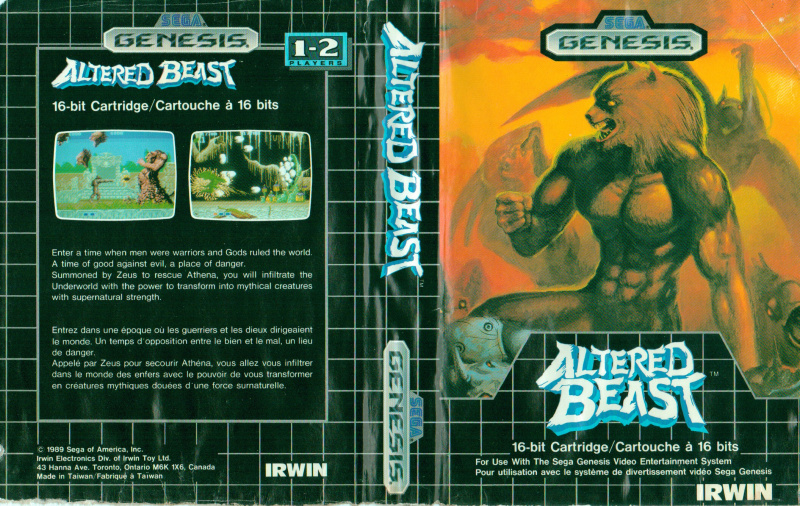 Ebenso die kanadische Version von NHL All-Star Hockey 95 in der Pappbox (All-Star Hockey = Match des Etoiles auf Französisch).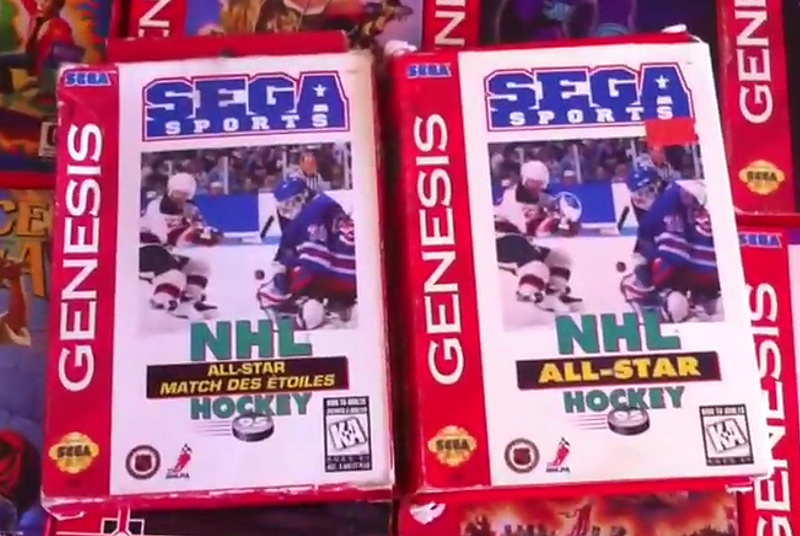 Exklusivität
Folgende Spiele gab es nur als US-amerikanische Version:
(und damit weder als PAL/SECAM/JP/BR/KR/ASIA-Version)

Anteil
Mit 698 Spielen erhielten die NTSC-US Regionen (USA/Kanada) mit 73,63% aller 945 erhältlichen Mega Drive/Genesis/GamBoy Spiele (bzw. 699* von 962*) die meisten aller Regionen, das letzte war Frogger durch Majesco 1998.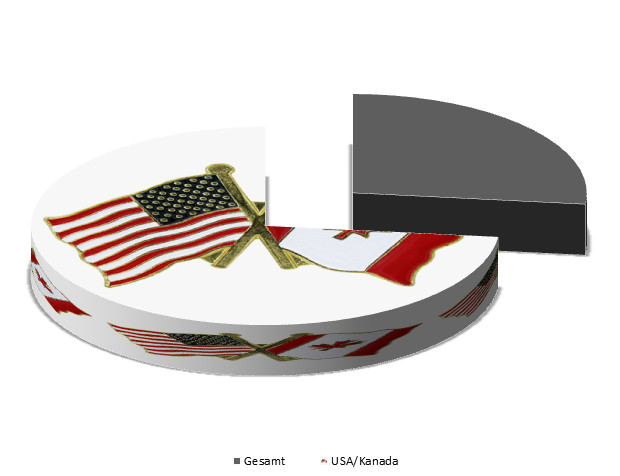 * die höhere Zahl ist jeweils die Gesamtmenge an Spielen, wenn man an sich gleiche Spiele mit z.B. verschiedenen Sport-Teams je nach Region (z.B. NHL 95 mit NHL-Teams / Elitserien 95 mit schwedischen Elite League Teams) oder unterschiedlichen Charakteren (z.B. Wonder Boy in Monster World mit Wonder Boy / Turma da Monica mit der brasilianischen Monica) berücksichtigt.

Nachfolgend alle Spiele mit gleicher Mechanik, aber inhaltlichen Unterschieden:
Championship Bowling[US] / Boogie Woogie Bowling[JP] [unterschiedliche Charaktere]

Boxing Legends of the Ring [US] / Chavez II[US] [unterschiedliche Charaktere/Sprache]

Elitserien 95[SWE] / NHL 95[PAL/US] [Schwedische Elite League Teams / US-amerikanische NHL-Teams]

Elitserien 96[SWE] / NHL 96[PAL/US] [Schwedische Elite League Teams / US-amerikanische NHL-Teams]

European Club Soccer[PAL] / World Trophy Soccer[US] / J. League Champion Soccer[JP] [Europäische Clubs / Internationale Teams / Japanische J. League Teams]

Klax [unterschiedliche Programmierer zwischen PAL/US/BR und JP-Version]

Decap Attack[PAL/US/BR] / Magical Hat no Buttobi Turbo! Daibouken[JP] [unterschiedliche Charaktere]

Marble Madness [unterschiedliche Programmierer zwischen PAL/US und JP-Version]

Prince of Persia [unterschiedlicher Umfang/Sound zwischen PAL und US-Version]

Probotector[PAL] / Contra: Hard Corps[US/JP] [unterschiedliche Charaktere]

Dr. Robotnik´s Mean Bean Machine[PAL/US/BR] / Puyo Puyo[JP] [unterschiedliche Charaktere]

Australian Rugby League[PAL/AUS] / Rugby World Cup 95[PAL/US] [Australische Clubs / Internationale Teams]

Shane Warne Cricket[AUS] / Brian Lara Cricket 96[PAL] [Australische Clubs / Internationale Teams]

Sports Talk Baseball[US] / Pro Yakyuu Super League 91[JP] [US-amerikanische MLB Teams / Japanische C- und P-League Teams]

Super League[PAL/BR]/Tommy Lasorda Baseball[US] / Super League[JP] [US-amerikanische MLB und Internationale Teams / Japanische C- und P-League und Internationale Teams]

Wonder Boy in Monster World[PAL/US]/Wonder Boy V: Monster World III[JP] / Turma da Monica na Terra dos Monstros[BR] [unterschiedliche Charaktere]